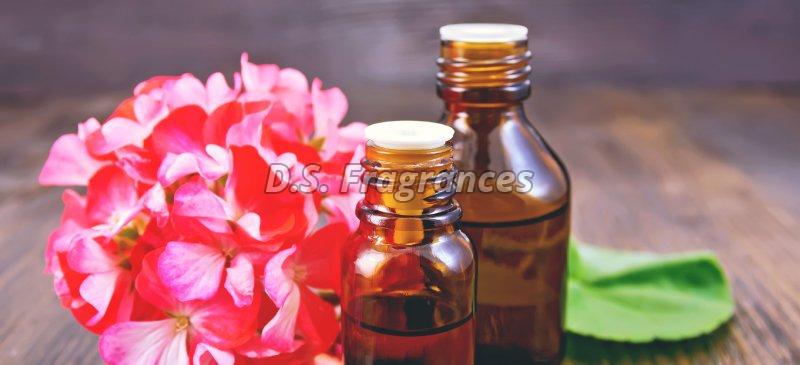 Geranium oil is an essential oil that is extracted from the plant Geranium. Though there are 422 different species of this plant, only 10 of them could yield practically extractable levels of the oil. It has strong antibacterial and anti-fungal properties making it a good skincare product. Hence, many Geranium Oil exporters are involved in manufacturing and supplying of this valuable oil.
The natural geranium oil manufacturing process
Having a delicate floral smell similar to a rose, geranium is often used in perfumery production and skin preparations.
The flowers, leaves and stalks are steam distilled to produce an essential oil which blends well with many other oils including
• Basil,
• Bergamot,
• Fennel,
• Cypress,
• Eucalyptus,
• Neroli,
• Juniper,
• Pine,
• Ylang-ylang,
• Patchouli,
• Lavender,
• Myrtle,
• Rosemary and
• Sandalwood
Thus, making it one of the most versatile of oils, used for blending, that aromatherapists can use.
Natural Geranium Oil properties & actions include:
• Antibacterial – stops the growth of bacteria
• Antifungal - destroys or prevents the growth of fungus
• Analgesic – relieves from pain
• Antidepressant - lessens or averts depression, boosts mood, counters melancholia
• Antiseptic – prevents or stops the infection
• Astringent - sources contraction of organic tissues
• Deodorant - an odour correcting agent that masks or removes unpleasant smells
• Hormone - a product of living cells that yields a precise effect on the motion of cells that are distant from its point of origin
• Regulator - an agent helping balance and regulating the functions of the body
• Relaxant – pacifying agent that sources relaxation to the body along with relieving strain or pressure
• Sedative - agent that applies a soothing, anaesthetizing, calming effect on the body,
• It is really good for nervous tension, stress, sleeplessness, anxiety and shivers.
• Tonic - strengthens and invigorates the whole or specific parts of the body
How to use geranium oil?
Natural Geranium oil can be diluted with a carrier oil like sesame oil, coconut oil, jojoba oil, etc. and used topically on the skin. You can use it as a spot treatment for acne or itchy skin, or as massage oil.
Some carrier oils may cause an allergic reaction when applied to the skin. Before using, do a patch test on a small area to make sure it doesn't cause a reaction.
Essential oils should never be swallowed.
Geranium oil side effects
When used correctly, geranium oil is considered safe for most people to use. Some people may experience a rash or burning sensation when using it on the skin. Never use any essential oil on the skin unless it's diluted with a carrier oil.
There are many varieties of Geranium oil offered by natural geranium oil manufacturers in the market.
Where can I buy natural geranium oil?
You can buy it online from various Natural Geranium Oil suppliers in India. The product offered by the leading suppliers is processed hygienically. It is well packed with customized packaging material to meet the set industry standards.
If you contact one of the noted geranium oil suppliers, then they will ensure the delivery of the product at a promised time frame also. Feel free to get in touch with them online and avail the geranium oil of superior quality at a very reasonable price.