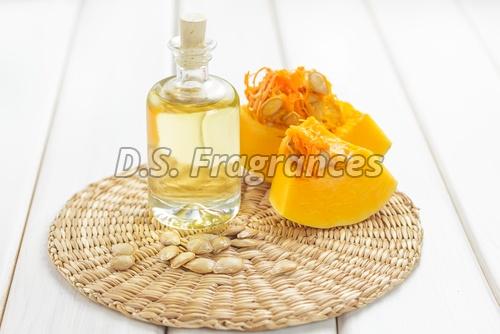 Business Type
Manufacturer, Exporter
Type
Carrier
Use
Medicine
Certification
FSSAI
Click to view more
Preferred Buyer From
| | |
| --- | --- |
| Location | Anywhere in India |
Product Details
| | |
| --- | --- |
| Shelf Life | 1 Year |
| Packaging | Glass Bottels |
| Form | Liquid |
| Part | Fruit |
| Botanical Name | Cucurbita Pepo |
| Extraction Method | Soxhlet Extraction |
| HS Code | 3301 |
| This Prices Including | 18% GST Tax + All other Taxes |
| Note | Samples are free |
What Is Pumpkin Seed Oil? How Is It Made?
Pumpkin seed oil, also called pepita oil, is the oil extracted from the seeds of a pumpkin. There are two main types of pumpkins from which the oil is obtained, both of the Cucurbita plant genus. One is Cucurbita pepo, and the other is Cucurbita maxima.
The process of extracting pumpkin seed oil can be done more than one way. You want to choose an oil that has been cold-pressed, which means the oil has been extracted out of the pumpkin seeds using pressure rather than heat. The cold-pressed method of extraction is preferable because it allows the oil to retain its beneficial antioxidants that would be lost or damaged due to heat exposure. (2)
Research shows that the oil extracted from pumpkin seeds using cold pressure is "an important source of many healthy components such as antioxidant and antimicrobial agents." (3) Refined oils are made using heat and chemicals and consequently produce less nutritious and healthy final products.
What is pumpkin seed oil used for? You're about to find out the many uses and benefits of pumpkin seed oil.

8 Benefits of Pumpkin Seed Oil

1. Reduces Inflammation
Replacing saturated fats with healthy, unsaturated fats makes a deep impact on the amount of inflammation in your body. In fact, a research study in 2015 found that replacing cocoa butter with pumpkin seed oil in the diet of people suffering from nonalcoholic fatty liver disease and atherosclerosis (plaque buildup in the walls of the arteries) reduced the effects of these diseases on test subjects. (4)
If you're seeking to live a disease-free life, introducing anti-inflammatory foods and supplements into your diet is one of the key actions you need to take.

2. Nutritional Aid for Cancer Patients
You read that right! While there is no "cure" for cancer, pumpkin seed oil has been proven in several studies to support the health of cancer patients and/or a reduced risk of cancer.
Pumpkin seeds are one vegetable seed proven to help reduce the risk of breast cancer in post-menopausal women. (5) Additional research from the University of Rostock's Department of Obstetrics and Gynaecology in Germany has found the nutritional value of pumpkin seeds to possibly prevent and treat breast cancer. (6)
The future is promising for men as well as women — pumpkin seeds may also reduce or inhibit the growth of prostate cancer cells. (7)
For those currently being treated for cancer, pumpkin seed oil may also be an answer to common problems. A research study published in the Indian Journal of Biochemistry & Biophysics reveals that pumpkin seed oil's antioxidant properties create a filter for radiation and protect against or prevent small intestinal damage from methotrexate, a treatment for several types of cancer and also rheumatoid arthritis. (8)

3. Good for Prostate Health
Perhaps the most well-documented aid of pumpkin seed oil for health is its vast effectiveness on maintaining a healthy prostate. It has been known to protect against prostate cancer, but it's also great for prostate health in general.
Long used as a folk medicine for prostate health, research has shown that pumpkin seed oil can help to reduce the size of an enlarged prostate, especially in the instance of benign prostatic hyperplasia (age-related prostate enlargement).
A study published in 2009 reveals that men who consumed 320 milligrams of pumpkin seed oil each day of for six months saw a reduction in their symptoms and improved quality of life. The researchers conclude that pumpkin seed oil (as well as saw palmetto oil) "are clinically safe and may be effective as complementary and alternative medicine treatments for benign prostatic hyperplasia." (9)
That's why pumpkin seed oil use is one of three steps to improve prostate health!

4. Encourages Mental Well-Being
We all need to consider the health of our brains and mental states. Studies using animal subjects demonstrate the impressive anti-depressive effects of pumpkin seeds with a reduction in depression similar to that of standard drugs.

5. Fights Hair Loss in Men
Is pumpkin oil good for your hair? The management of hormones in a healthy diet is key to stopping and/or reversing hair loss, as it is linked to an increase in an androgen hormone, DHT (dihydrotestosterone). Pumpkin seeds act as a hair loss remedy due to their zinc content, which helps balance hormones, thus in turn benefits hair growth.
Can pumpkin seed oil regrow hair? It just may help according to some research. In a 2014 double-blind, placebo-controlled trial, pumpkin seed oil hair loss benefits were apparent, as men who took the oil over the course of 24 weeks showed an increase of hair count by an average of 40 percent. (11)

6. Great for Heart Health
Is it any surprise that an anti-inflammatory supplement would be great for the heart? Through a process that may involve the production of nitric oxide, pumpkin seed oil exhibits antihypertensive and cardioprotective effects, meaning it can protect you from heart disease and/or heart attacks. (12)
It also reduces diastolic blood pressure while raising HDL "good" cholesterol and improving menopause symptoms in postmenopausal women, according to a randomized, double-blinded, placebo-controlled, pilot study of 35 women published in Climacteric: The Journal of the International Menopause Society. (13)

7. Helps Manage Diabetes
Diabetes has many causes, one of which is poor diet. Both type 1 and type 2 diabetes are manageable, and even treatable, with good diet strategies and supplements. Research shows that the fruit pulp, oil from ungerminated seeds and protein from germinated seeds of pumpkin all have have blood sugar-lowering properties. (14) This makes oil from pumpkin seeds a good addition to any diabetic diet plan.

8. Soothes Overactive Bladder
A 2014 study published in the Journal of Traditional and Complementary Medicine suggests pumpkin seed oil extracts (from both the Cucurbita pepo and Cucurbita maxima varieties) effectively treat urinary disorders, specifically overactive bladder. (15) This indicates consuming this oil is an important part of maintaining a healthy excretory system.
Read More...
Looking for "
Pumpkin Seed Oil

" ?
100ml, 250ml, 500ml & 1kg